Should I bring or Renting a Car in Morocco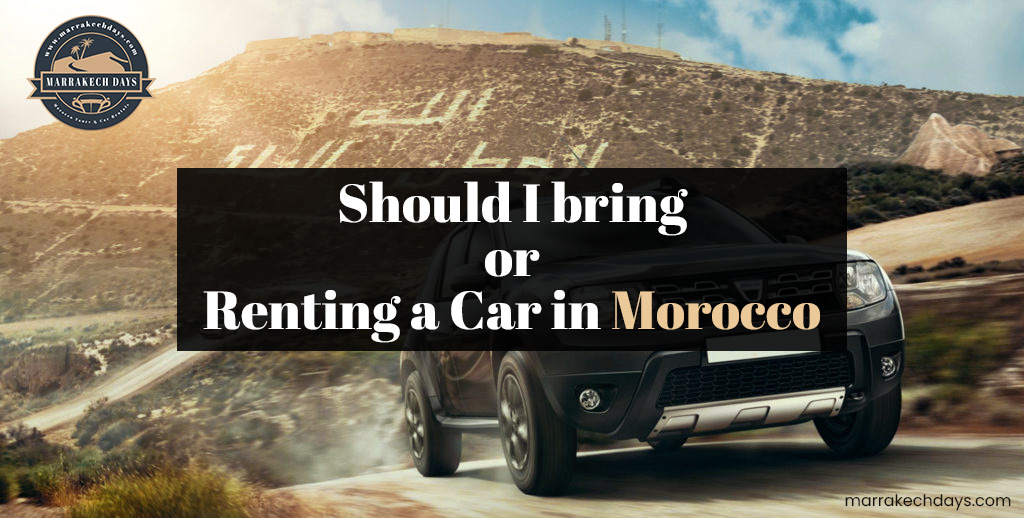 You're preparing for a travel to Morocco and you're wondering whether you bring your car or renting a car in Morocco! In this article you're about to read, you will know what's best for you.
What is best in Morocco: Public transport or renting a Car
If you would like to live a free and a comfort travel in Morocco, you should rent a car. Renting a car in Morocco can offer you lot.
First, it saves money and time. You will be able to access smoothly all the places you would love to be in along the kingdom. For a long travel, you will break the road to several station according to the most attractive one and which can offer you a breathtaking view.
You will not waste your time in asking about which public transport is heading to your targeted place or when/where it departs. Instead, you just plan your day (where you would love to go and when according to your proper time).
Also, using lot of public transport directions costs lot (sometimes to go to one place you may need two or three vehicles). But if you rent a car in Morocco, all you need is to check your car before departure and put the petrol then you take the road you wish.
Second, there was conducted research, where they asked people which is best for a comfortable travel; is it to have a car or to use a public transport, and most of the answers go with owning a car.
Renting a car in Morocco will allow you to live all the moments by all its details and by the end of your journey, you will have an unforgettable souvenir. When you rent your car, turn the radio on and enjoy the beautiful landscapes that is offered along the way.
However, Morocco's public transport is nowadays greater. You can use, transport cars, Bus, Train, Tram and Borakk (TGV). Furthermore, you can use the flight because there is airport for each region in the Kingdom.
The common documents you need for renting a car in Morocco
Actually, renting a car in Morocco is like drinking water; it's not those complicated proceedings that may occurs in another country.
Driver' license from your country
Residence is not necessary
International ID (Passport)
Insurance/Guarantee (it's dependent on what the arrangements you mad with the rental car's agency; maybe Credit Card, Cheque…)
Renting a car in Morocco – Pick up and drop off location
In the case of Marrakechdays agency for renting cars, they work professionally and they appley the new strategy of pick up and drop off.
Wherever you arrive in Morocco, you will find your rented car from Marrakechdays waiting for you at your airport location. Furthermore, you can drop off the car wherever you have your flight and one of our team will take it later.
About renting a car in Morocco, in the case of Marrakechdays it's 100% trusted and follows you along your renting durations.
You can rent your suitable car
Which Auto Car is proper for Desert's Road and long travel
It's known that SUV are the best for a long travel and also for deserts' tours. The internal-space of the car is large, based on a turbo motor and trend ones also based on 4X4 drive, it's prestigious and fast. It's proper for 1 person, 2 or a family.
Minivans as well, can be the best travel vehicle for long travel with your family. It will give you the comfort you need along the path. Also, offers a clear watch to the panoramic views on the way. If anyone of your family just feel tired or sleepy, he/she could have a great sleep because it's much larger.
Marrakechdays offers you these cars and more (Check here)
The must visited places when renting a car in Morocco
Morocco is known as an international tourism destination and tourists comes everywhere in the world. When you renting a car in Morocco, all you have to do is planning your must visited places and go for it. To be honest, all the sides of Morocco are really beautiful and each place you go into has its specifics and different sightseeing; you may need years to discover the beauty of Morocco.
You can visit Marrakech, Tangier, Essaouira, Fes, Volubilis, Meknes, Rabat, Casablanca, Chefchouen, Merzouga, Laayoun, Zagora, Ifran, Azrou, Midelt, and so many other tourism destinations.
If you're interested to know the best places you can go into in Morocco, visit Marrakechdays' itinerary tours that is provided and book your tour trip with them (Check).