Morocco is neither far away nor expensive, it is a dream vacation and adventure destination. Trekking, cultural visits, camel rides, beaches and sunbathing await you in this colorful country. Here are seven reasons to choose Morocco for your next vacation: 
A change of scenery up close
Morocco offers a real taste of another country without the need for flights, visas and endless vaccinations. Just a stone's throw from Europe, Morocco is a true gateway to Africa and the Muslim world, where you can experience a new culture, enjoy colorful landscapes, meet beautiful people and see the local wildlife. Drive from the largest desert in the world to paradisiacal beaches in just a few hours; camp with Berbers and then dine in a luxury hotel; go scuba diving and then photograph monkeys in the jungle; trek and then sandboard? Morocco, with its hospitable people who speak perfect French, European comfort, authentic culture and diversity, is the perfect place for a change of scenery close to home. 
Delicious cuisine
For foodies, a trip to Morocco is a real treat. With its world-famous cuisine, flavorful spices and addictive desserts, Morocco is one of those countries where you'll spend a lot of time at the table. How can you miss royal couscous on Fridays? How can you miss the marshmallows, sweet and savory pastries with chicken and cinnamon? And how can you resist the thousand and one Moroccan pastries with their irresistible flavors of honey, argan and nuts? Not to mention the famous mint tea that you can share with your guests as you see fit. Morocco is a country where you can enjoy fresh, flavorful foods, and if it's to your liking, don't hesitate to take a Moroccan cooking class!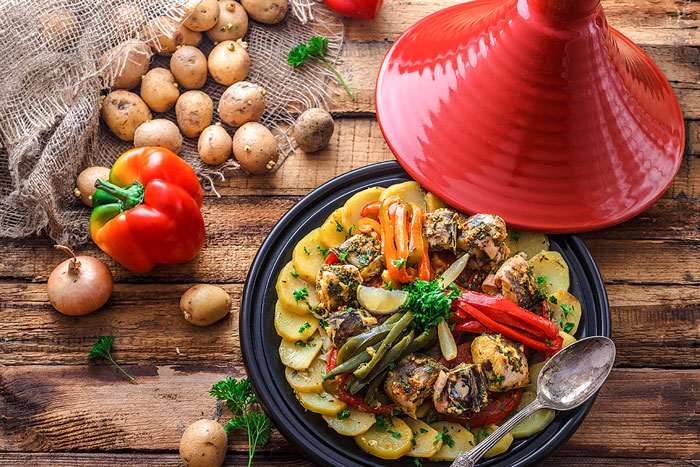 Adventure in the desert
Whether you prefer the sea or the mountains, there is no doubt that at least once in your life you should go to the desert. The Sahara is the largest hot desert in the world, and it is truly a magnificent landscape to admire. There are several places in Morocco, such as Ouarzazate, where you can have an adventure in the Sahara on foot, horseback, camel or ATV. You can also camp in nomadic tents in the Sahara to share an unusual experience with the locals and enjoy the most beautiful sunsets and sunrises. 
The most beautiful beaches in the world
Morocco, with its warm waters and long white sandy beaches, is the perfect place for a relaxing vacation. The long coastline allows you to enjoy exceptional sunshine, warm but not stifling temperatures and great comfort all year round. You can choose between well-developed seaside resorts with luxury hotels, spas and water sports, such as Essaouira, Kemado or Agadir, or small, secluded coves or wild romantic beaches such as Lerguiza. Of course you can swim and snooze on the beach, but you can also surf, kitesurf, windsurf, dive or hike in the sea as you like. If sunbathing is part of your plans in Morocco, check out our selection of the most beautiful beaches in Morocco. 
Check our tours to discover the beauty of morocco
Variety of activities
In a country as diverse as Morocco, you will never be bored. Every day you can choose between high mountain trekking, desert excursions, horseback riding, camel riding, rafting, cultural exploration, visiting historical sites, scuba diving, beach, surfing, sandboarding, quad biking, paragliding, hot air ballooning and many other activities. Morocco is a true country of adventure, suitable for all members of the family and for all tastes, where you can fully enjoy the closeness to nature. For adrenaline-seeking travelers, we have prepared a selection of 12 unusual activities in Morocco. 
Handicrafts and souvenirs
Did you know that Morocco is also a great place for shopping? It is one of the countries where you can buy many handmade souvenirs, from traditional slippers to Berber rugs that are perfect for decorating your home. The old medinas are dotted with shops and craft stores. And if you don't find what you're looking for, you can easily order a custom-made piece, like leather boots tailored to your figure or custom jewelry. And it would be a shame to simply take this rich artisanal know-how home as a souvenir. While in Morocco, take time to visit workshops and, why not, take art classes. 
Meeting people
A trip is never complete without meeting people, and Morocco will serve you well in this regard. Moroccans are very warm and curious, and you will appreciate their hospitality, especially if you decide to stay with them. Morocco has a multi-ethnic and multicultural population that promises many discoveries and surprises. Discover the world of Berber shepherds over a cup of mint tea and capture your encounters in a few photos. The Jemaa el-Fna Square in Marrakech hosts a celebration of Moroccan culture every night with snake charmers, dancers, storytellers and many other artists.